Discover more from Minimum Viable Planet
An undepressing newsletter about how to fight the climate crisis.
Over 6,000 subscribers
License to wear a unitard and dance in the middle of an intersection has been granted to me
Fer serious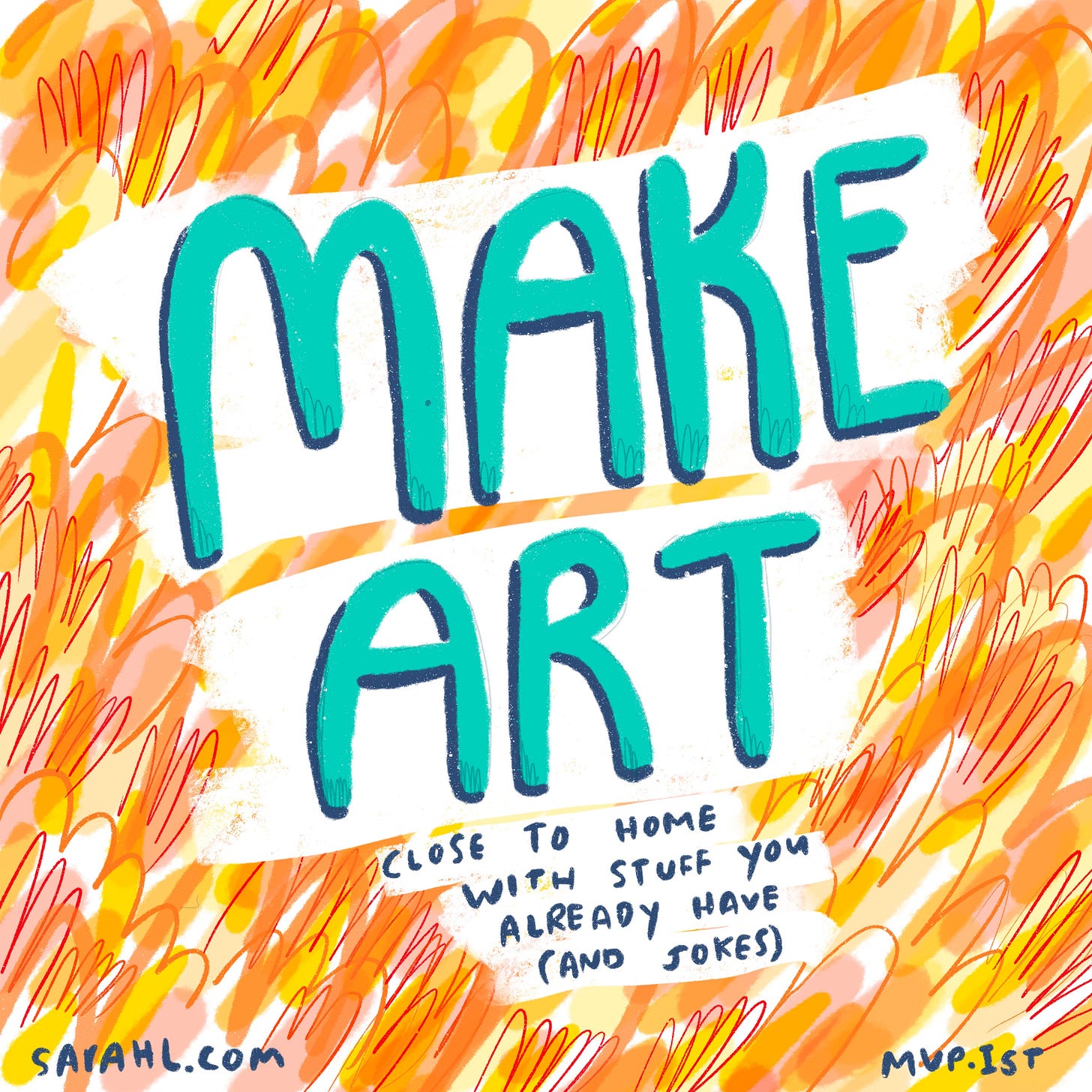 I was wrong about climate art.
Mostly. 
Reader Casey wrote this, and it sums up my wrongery best - 
I like to think that creating art that is mindful of the potential for positive change may in fact evoke that positive change in more than me.
That's it. Just entertaining the idea that something you make may inspire change is enough. Whether anyone actually take inspiration from your dance quintet is mostly beside the point. If a tree falls in the forest, at least there's a forest that hasn't been burned by Bolsonaro. Just this week a friend added me to Artists for Real Climate Action, where everyone from a climate mime to modern dancers are busily making climate art, or at least talking about making climate art. If Climate Mime feels empowered by his work, that's enough. If one or two others do as well, that's just panto gravy.
Writes Tess: 
I'm knee deep in a film about prison inmates working on a farm. It's criminal justice meets agriculture. And after a day of listening to these inmates talk about what is meaningful to them and how this farming gives them pride when all the world has for them is shame, I read this and remembered, "what about climate change". They work outside everyday on the shores of the Rideau which is swelling into their crops. 
Just making art through the lens of climate change means all sorts of new layers. I can't wait to see this film. Speaking of film, Jennifer writes:
I just watched Wasted! the food waste doc directed by Anna Chai and Nari Kye. It manages to communicate the seriousness of the problem, while at the same time showcasing so many beautiful ways to divert food waste at every level. It also manages to be the beautifully shot food porn we're used to from series like Cooked and Salt Fat Acid Heat, which of course is partly the point: food is beautiful and shouldn't be wasted! Also funnily enough, it's executively produced by Anthony Bourdain (RIP), and he brings his classic acerbic dark humour to it. At the very end, he even talks about how if he had his way, this whole project would have been a lot darker, but obviously they had consciously made a doc that didn't need a Big Lebowski chaser. Highly recommend. 
And then there's the climate art that is just so epic and beautiful it can't make me blue. Todd shared this wondrous piece on Facebook, and I keep going back to look at it over and over again.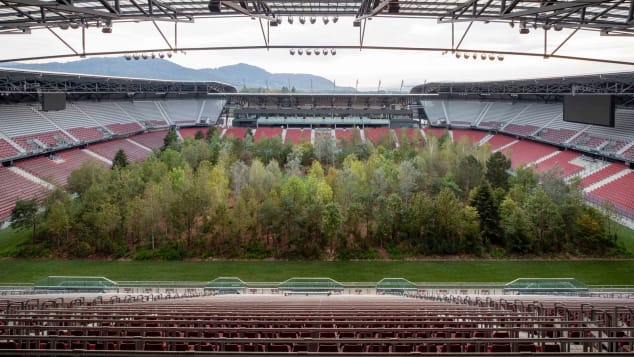 I thought poetry about climate woe would make my want to cry/die/lie in a pool of lukewarm jello, but reader Josette sent me some poems about parenthood and planet that were lovely. This one is so good: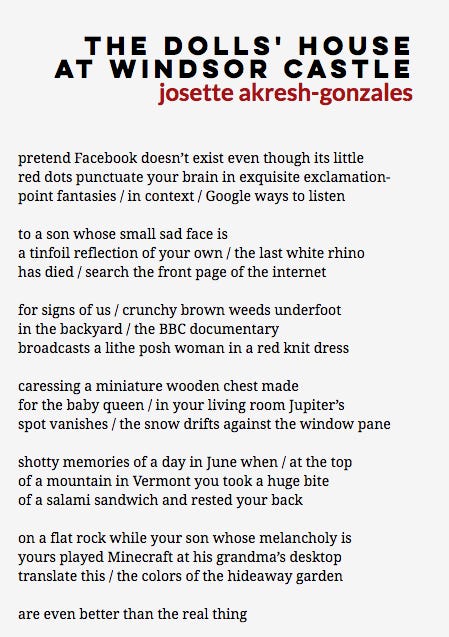 I loved this piece from The Nation on XR and hope not despair. This para in particular: 
The lesson here is not that any one strategy is particularly efficacious. It's that collective action is the surest antidote to solitary despair. This is something that Americans have largely forgotten. When I asked Clare Farrell, another founding XR organizer, how she managed to keep afloat despite the ever-rising tide of apocalyptic news, she answered by recalling an early XR slogan: "Hope dies, action begins."
I love the art of good climate writing (not looking at you, Franzen), and the by turns wry and earnest language of planetary sloganeering. Hope dies, action begins. It's equal parts bad Bond film title and perfect climate cri de coeur. Lord knows, we need both.
THIS WEEK
You don't need to like climate art to make your own. Make a Global Climate Strike poster or graphic, wontcha, and share it somewhere PUBLIC.
LAST WEEK
I did ask my boss if we could close for climate, and I am so happy to report that he said yes. I wrote a piece about it for our company blog, and am hoping I can get more Canadian companies to hop on board. You? Any luck?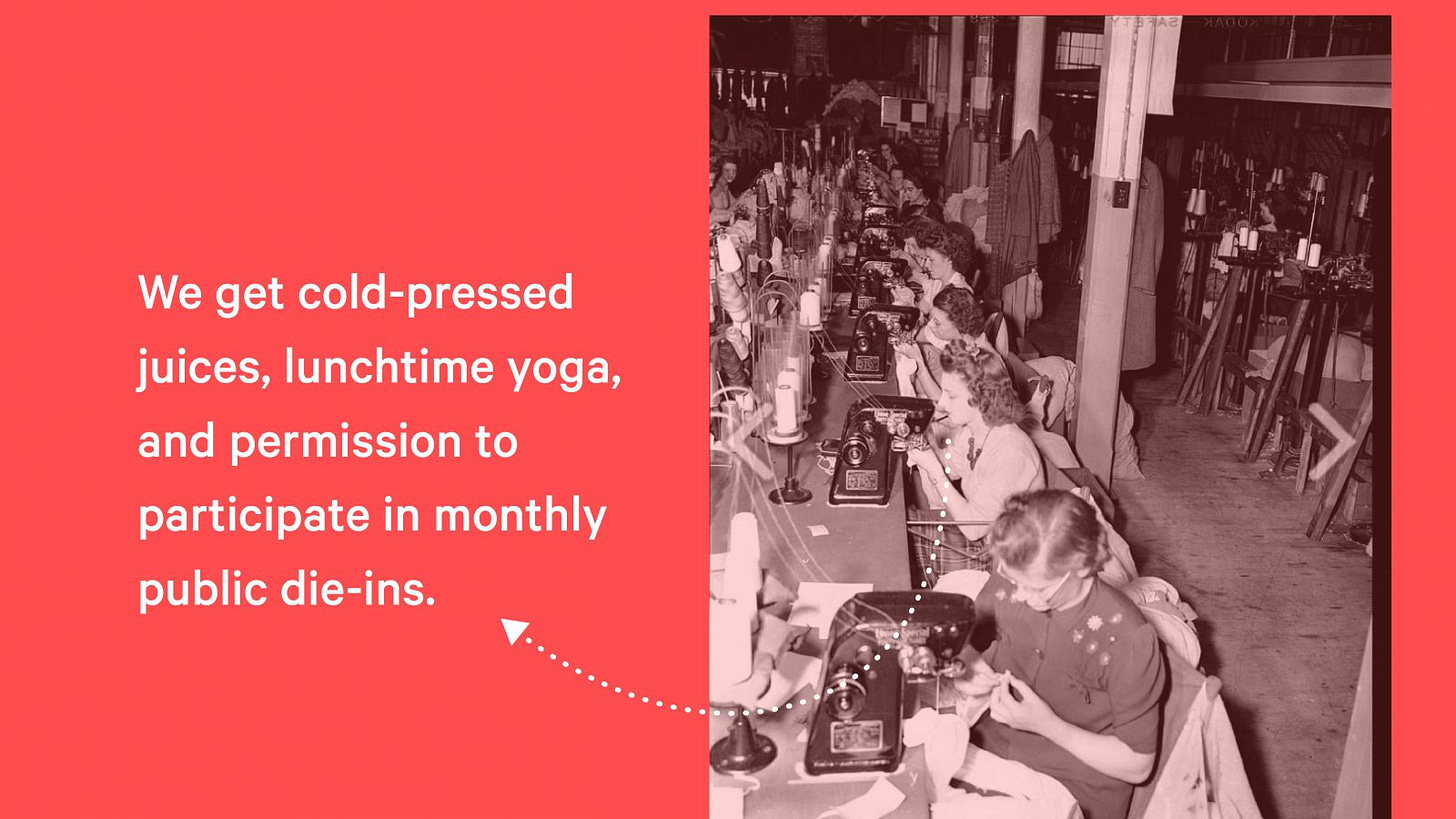 This newsletter now has 500 subscribers (wtf!). If you like it, tell a friend. If you hate it, tell two!
Have a wonderful week! 
Oh right, the unitard thing is here!