Discover more from Minimum Viable Planet
An undepressing newsletter about how to fight the climate crisis.
Over 6,000 subscribers
Not Buying My Own Bias (Or BS)
two short hot thots
It's Buy Nothing Day. I'm Not Buying My Biases. Here are two that have recently tripped me up.
Proximity Bias
On Monday I went to Strange Weather, a fantastic conference at the University of Toronto about reconciling art and science. It was a busy week at work so I almost bailed. But the wonderful Katherine Hayhoe was giving the keynote, and I didn't know when I would get the chance to hear her again. I was surprised to arrive at the conference to discover that Hayhoe was a no show...in the physical sense. She was teleconferenced in from Texas via some magically good tech, and used digital tools to close the gap in proximity, and engage with us through instant polls and questions. Even the Q&A was devoid of glitches. I found it inspiring that the conference organizers didn't announce that some of the speakers would be teleconferenced in. It normalizes the idea that you don't need a speaker to be physically present to have a great conference experience. As for my bias towards physical presence, I hope it's now dispelled. Why was I gauging my decision to attend on whether Hayhoe was in TO? I had no need to meet her. It's my fellow participants that I usually want to chat with, anyways.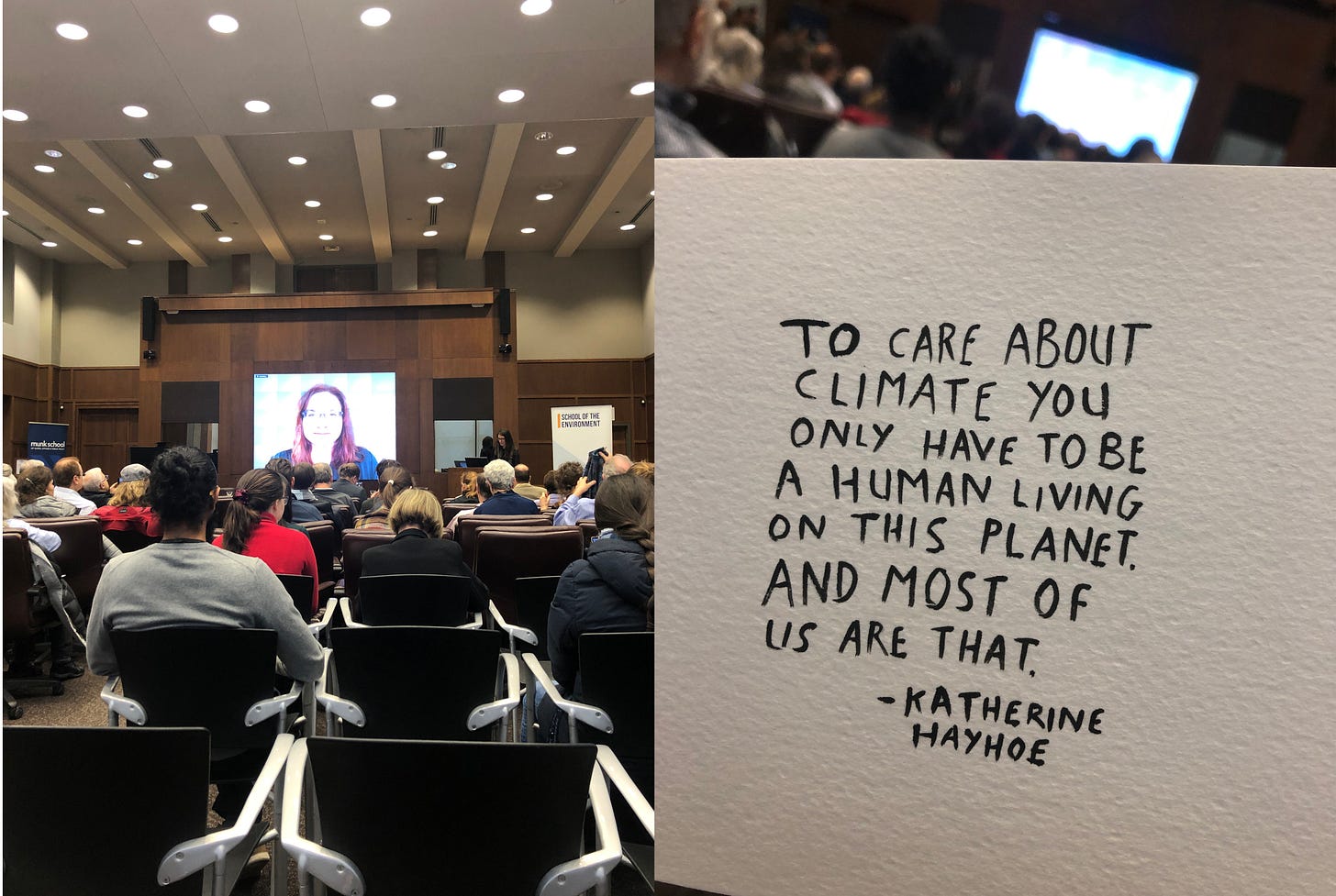 Of course I recognize the flipside of this is not as appealing. Would I want to sit by myself and watch a live feed of a conference occurring in a faraway city? Perhaps not. Or maybe I would? If I could chat live with other attendees, submit questions, or even host a local meetup for the conference. All to say, we're going to have to figure out how to be together without being together (Bring on the AR!). And conferences and business travel are the low-hanging frequent flyer fruit. We're also going to have to figure out how to change the conversation. From the website of a conference I've long wanted to attend, but never been able to justify taking a flight to:
The most popular aspect of BECC year after year is the chance to meet and engage with thought leaders, sustainability advocates, funders, program developers, technical experts, policymakers and ever growing BECC family.
Great, but what about the talks, panels, delayed flights, lost luggage, and mediocre hotel buffet food?
Narrative Bias and Buying
Sustainable products suck us in because they tell a better story. My husband makes fun of all the bad 'Dear Customer' copy on our product labels. Dear customer, My grandmother started making (insert product) fifty years ago on the very same farm where I now live with my wife, Mae, and our children Hudson and Forsythia. Yes, we are all beautiful and kind and barefoot, and our animals are beautiful, too. We source only the finest, all-natural, small-batch, artisanal (product) because that's the perfectly calibrated story we've designed to make you buy our thing. Love, People You Now Feel A Deep Need to Support
Obviously it's better to support good companies than bad companies. But a great, sustainable story can entice you to buy something you still don't need. The behavioural science term for it is moral licensing. I'm guilty of it on occasion. I quasi-need something and tell myself a sustainable story to rationalize a purchase. I know it's all a hot pile of duh, but my brain can craft the most intricate justifications. Maybe yours does, too? More on Green Materialism in last week's Behavioral Scientist.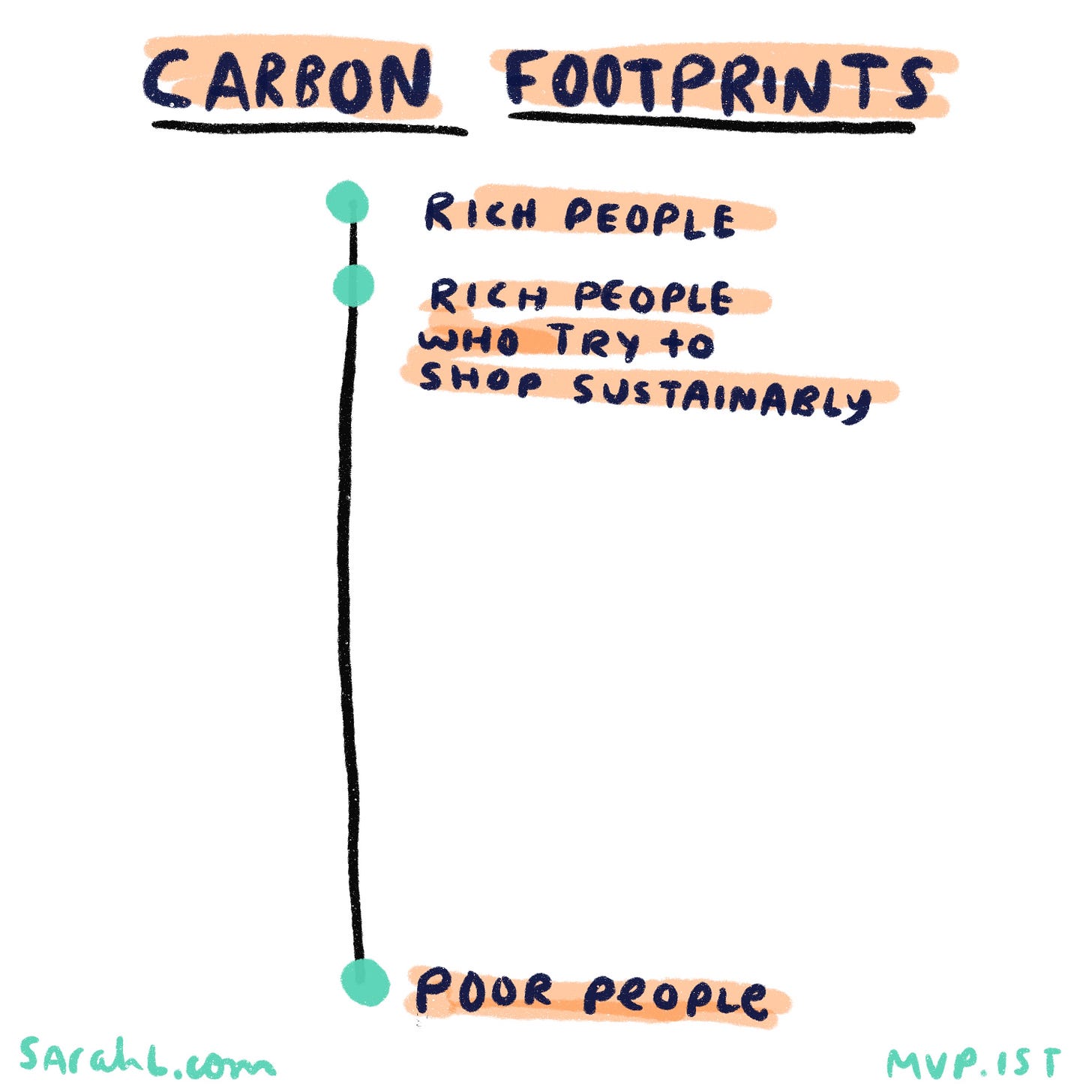 This Week: Bias Cuts
Any biases cramping your style and precluding you from MAKING SHIFT HAPPEN? LMK.
Last Week: Talkin' About Your Generation
Got lots of neat feedback from people. Some around my age felt the same way, but others (thankfully) did not. Writes J:
As a Gen Xer, it was in the 90s that I went vegetarian due to learning about "global warming" and animals rights. I was deep in zine culture, punk rock, and hip hop, ready to fight the power. This was a time in my life where I discovered riot grrrl and feminism, my university's queer collective, as well as lost a second-cousin to AIDS. Adbusters was one of my favourite magazines. It was where I first read about culture-jamming and a "buy nothing" Christmas, inspiring me to shift my gift-giving habits. If anything, I find today's music and pop culture not political enough.
I love this. From another reader comes the idea that many have watched their generations' proclivities to action wax and wane, which I'd never thought about. Writes S:
Dob 1954.  Demonstrated and worked to change world, stop war, liberate women, AIDS crisis etc.  were seen as dinosaurs, dropped up to working jobs, quit caring out loud. Now am truly dinosaur, wish I had stayed woke.  
Whether your generational attachments gave you headwinds or tailwinds, hoping you're flying high this week (though not in an actual plane)!
---
Housekeeping
How can I make this newsletter better? Tell me, pls.
💚this newsletter if you like it, or tell a friend to 💚it!
If you read this in the next hour, meet me at the Climate Strike on your lunch break?
Happy Friday!
Sarah